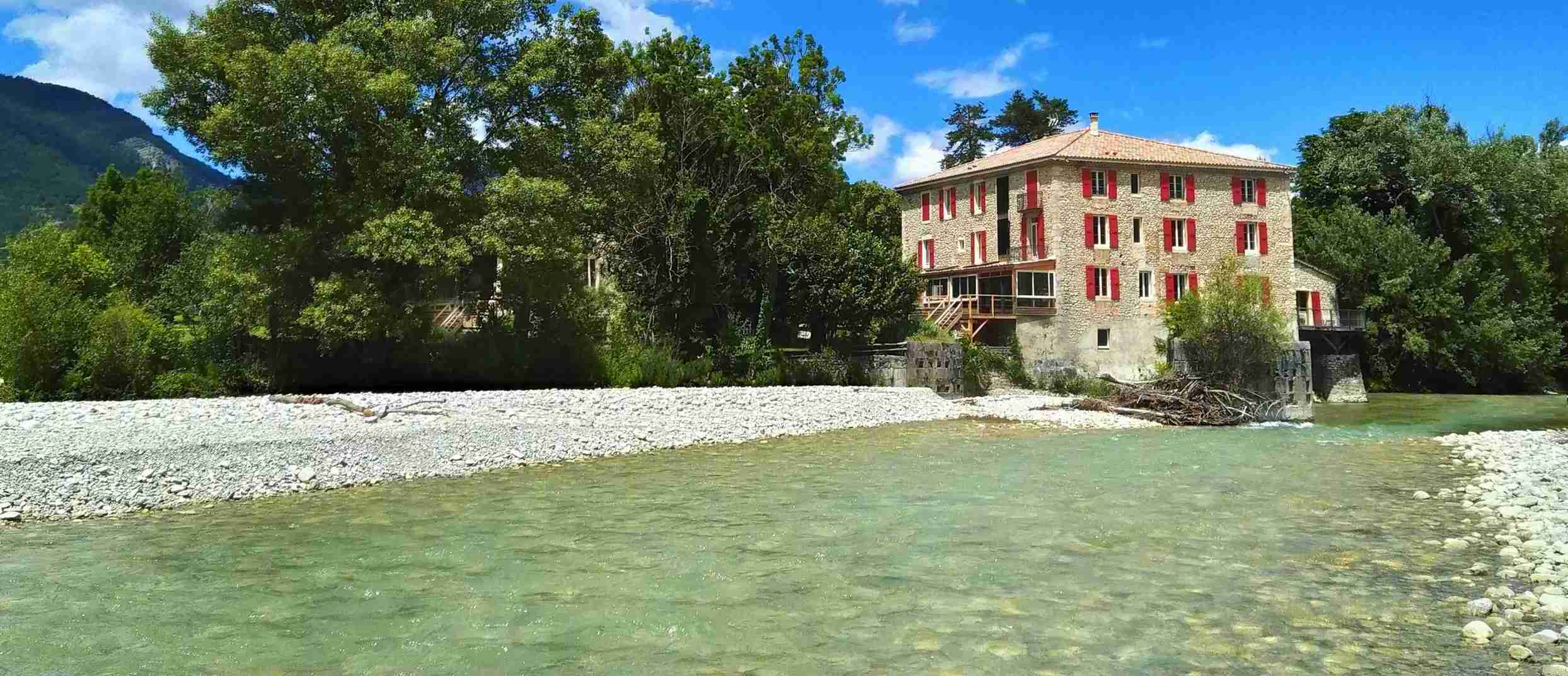 Le moulin de Solaure en Diois
Rental cottages and guest rooms of charm on the banks of the Drôme, at the foot of the cliffs of the Vercors, 5 minutes from Die
This medieval mill, renovated with love, in an exceptional setting, is the ideal place to unwind and spend a peaceful stay near the water in complete safety.
We welcome you in our 2 classified cottage

or in our 5 charming guest rooms to make your stays as pleasant as possible.
Beautiful trees shade the property and all summer you can hear the song of the cicadas. The impressive south Vercors cliffs dominate the valley and bring pleasant freshness every night.
Clear water from the river Drôme runs all year round on its pebbles. It moves in its bed according to its desires and leaves here and there some pretty small natural pools where to swim and small sandy beaches, a few steps away from the mill. Mosquitoes are very rare here thanks to fish, frogs and dragonflies.
Our neighbours, the beavers, have made several nests which they choose to occupy depending on the water level. They leave some "dams" and nibbled branches on the banks. It is possible to observe them at the end of the day.
We look forward to welcoming you and sharing our favourite spots to make the most of your stay and prepare your next excursions.
The mill of Solaure in Diois is favourably situated to discover the surrounding valleys, the Vercors and the pretty Roman city of Die with its cultural life 5 minutes away by car.
Enjoy a valley rich in heritage and leisure :
whitewater, canoeing, kayaking, canyoning, fishing,
hiking, biking, mountain biking,
mountain walking, climbing, via ferrata, caving,
horse riding, paragliding,
trips on the impressive Vercors roads,
culture and heritage in Die and in the beautiful villages of Diois, Clairette de Die and all the good products of the Bio-valley.
The 2 independent cottages
4 and 6 people
We have 2 independent cottage classified

to offer you for weekly rental, with direct access to the river for dips and swimming nearby in the Drôme, WIFI available :
Cottage "La maisonnette" for 6 people
Since its careful bioclimatic renovation, this former outbuilding of the mill has become charming gîte by the water. With a shaded wooden terrace overlooking the garden and a beautiful open view facing South over the valley.
Cottage "Sur la rivière" for 4 people
This charming renovated outbuilding has a separate entrance. Its garden hidden under the trees communicates by a wooden passageway with its large terrace above the water
The 5 guest rooms
2 or 3 people
With its independent entrance, your large kitchen shared exclusively by the guest rooms, overlooks its small terrace and a very quiet garden . Every morning, you will find your breakfast there (included in the service). You can relax there and also prepare some meals and picnics.
All our guest rooms for rent have their own bathroom with WC, excellent bedding, WIFI access and a very nice view. The "Coquelicot" and "Capucine" guest rooms for 3 people.. The "Bleuet", "Lavande", and "Mélisse" guest rooms for 2 people.
Hiking maps and other guides are available in the library as well as some board games.
Due to the use of the shared kitchen :

In a guest room
the sanitary pass is requested.

These weekly rates apply in high season (July / August) and mid-season (May / June and September / October). For out of season, please contact us.
| | High season | mid-season |
| --- | --- | --- |
| Gîte La maisonnette | 835 € | 725 € |
| Gîte sur la rivière | 600 € | 550 € |
Tourist tax of € 0.80 is in addition, per night and per adult.
Stays of 2 nights minimum.  These rates apply for the entire season from May to September. For out of season, please contact us.
| Guest rooms | 2 à 3 nights/night | 4 à 6 nights/night | week |
| --- | --- | --- | --- |
| Capucine | 80 € | 75 € | 490 € |
| Bleuet, Coquelicot lavande, Melisse | 70 € | 68 € | 455 € |
For the 3rd person in the Capucine and Coquelicot rooms, a supplement of € 20 is applied. (Except infants under 6 months)

Tourist tax of € 0.70 is in addition, per night and per adult.
scroll the calendar to find your date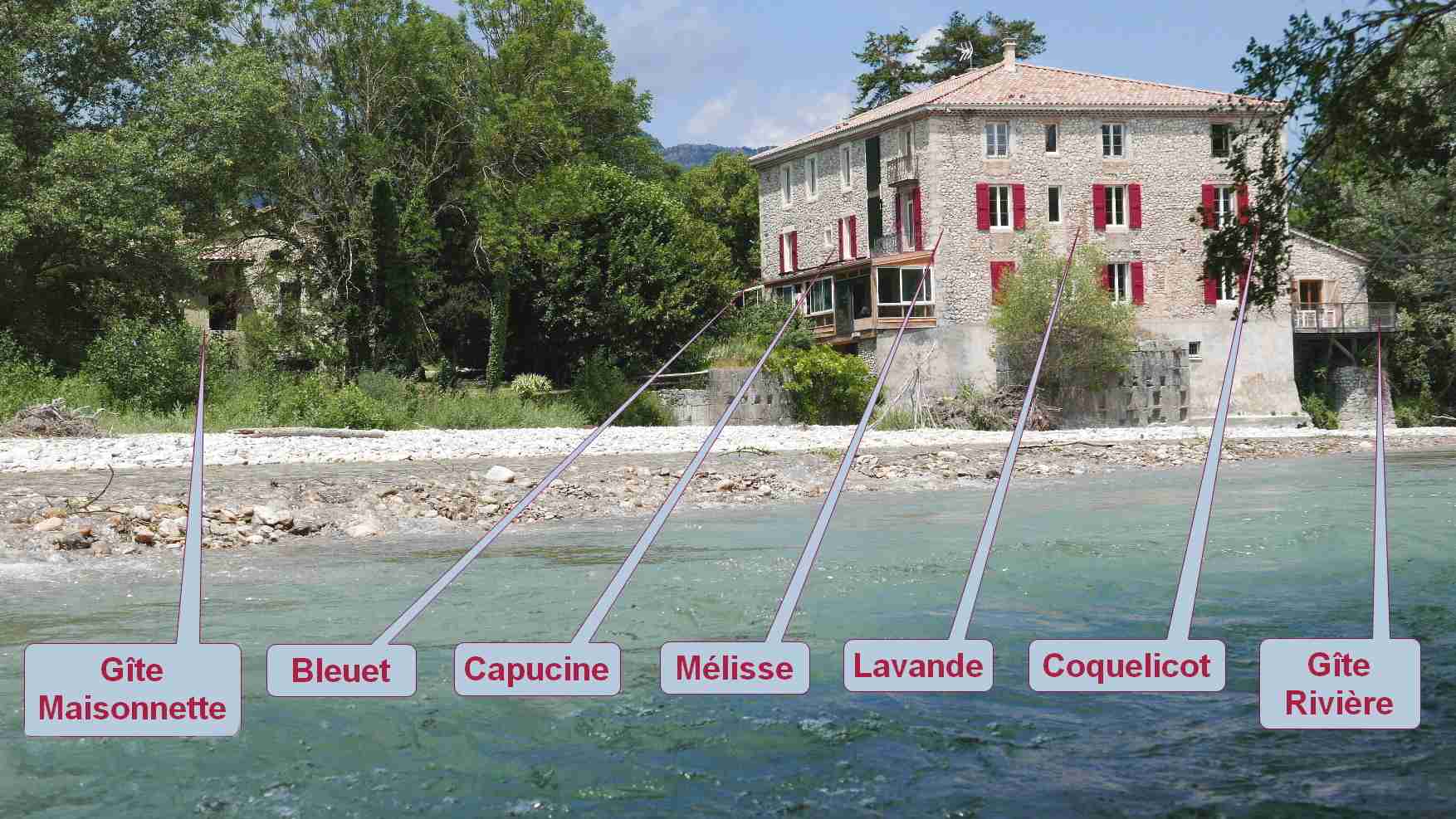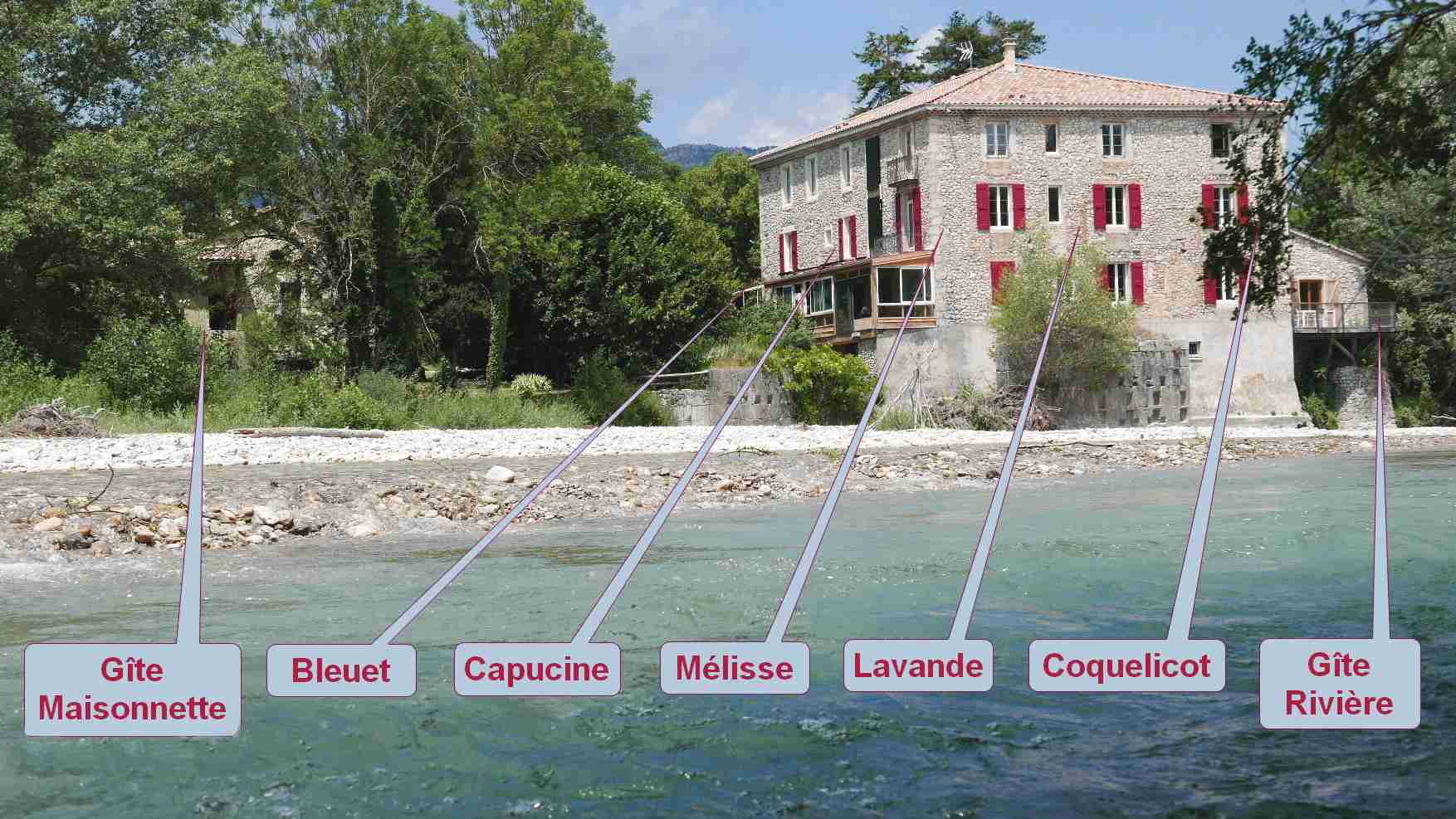 Details and online booking :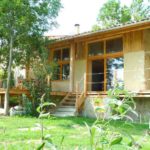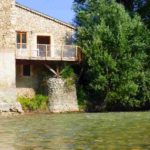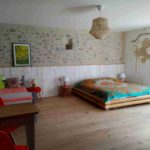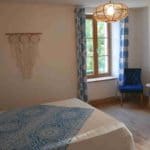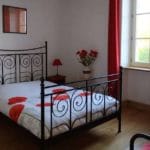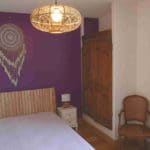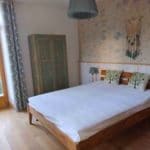 Vert nice place...host rooms are in a very old masterhouse, refurbished with care and taste after an extensive fire destroyed most of the inside arrangements in 2017. The owners , Vega and Laurent are very forthcoming and friendly. Rooms are nice, well insulated and sold as bed and breakfast (continental...
Vert nice place...host rooms are in a very old masterhouse, refurbished with care and taste after an extensive fire destroyed most of the inside arrangements in 2017. The owners , Vega and Laurent are very forthcoming and friendly. Rooms are nice, well insulated and sold as bed and breakfast (continental breakfast only). In the common room that has an extensive kitchen you can prepare your coffee and toast your bread. Laurent will ask your preferences when you arrive and will supply all you need for your breakfast in the morning, inclusive coffee butter, jam, bread etc...then you do your own thing, you can choose between in and outside seating...every room has its colourcoded assigned seatings. Every room has a dedicated parking space....all well thought and the best is..... The house is right on the bank of the river Drome, Europe's last natural river
Read more
Whrite a review
The history of the Solaure en Diois mill
The first written record that we found concerning the mill is a handwritten document dating from 1540. (…)